What's in the Curriculum? - Subjects
Mathematics
Across the school we have decided to follow a 'Mathematics Mastery' approach to the teaching and learning of this subject. This means that rather than spending up to a week on one area of maths and re-visiting each term, we have decided to focus upon key concepts that help to underpin a strong mathematical knowledge, developing a more in-depth understanding of maths. The documents below outline the overview to concepts being taught across each year group and the long-term objectives covered.
English
Reading: Children have access to a wide range of books from our book-banded scheme books that help support children as they progress in their reading skills and knowledge. They also have access to a wide range of fiction and non-fiction books in our library. Each class has a timetabled session every fortnight to borrow and return books.
Handwriting: We follow the "Penpals Handwriting Scheme". Handwriting is taught at least once per week and a premium is set upon quality presentation in all the work that we produce.
Writing: We are a Story Making school. We follow the Talk4Writing approach to the learning of fiction and non-fiction writing. Below are the long-term plans for writing across the school. These will be updated each term as becomes necessary.
Phonics
Our phonics syllabus stems from the Letters & Sounds programme and links to the 2014 Curriculum: Visit the PhonicsPlay website »
Science
Science has changed our lives and is vital to the world's future prosperity and all our children are taught essential aspects of the knowledge, methods, processes and uses of science. Through building up a body of key foundational knowledge and concepts, children are encouraged to recognise the power of rational explanation and develop a sense of excitement and curiosity about natural phenomena.
Religious Education
Religious education enables children to investigate and reflect on some of the most fundamental questions asked by people. We develop the children's knowledge and understanding of the major world faiths, and address fundamental questions concerning, for example, the meaning of life and the existence of a divine spirit. We enable children to develop a sound knowledge not only of Christianity but also of other world religions, especially those that are the main faiths of children within our school. Children reflect on what it means to have a faith and to develop their own spiritual knowledge and understanding. We help the children to learn from religions as well as about religions.
French
All of our Key Stage 2 Classes have weekly French lessons. We follow the 'Tout le Monde' scheme; supplemented with additional learning resources to meet the needs of all the children. Lessons are fun and engaging; focussing upon providing practical and engaging strategies to help children learn any language, not just French!
Physical Education
At Brampton Abbotts we strive to ensure all of our children have access to high quality PE teaching and equipment throughout their time in our school. We follow the National Curriculum and, as part of this, our children have the opportunity to develop their skills in gymnastics, athletics, multi-sports, swimming (in KS2) and dance as well as having the opportunity to participate and compete in our annual inter-school Key Stage 1 & 2 festival and competition calendar.
PE is supported by a dedicated sports coach that teaches every year group once a week. Our teachers then support the teaching of PE for the rest of the week including the teaching of key swimming skills for all of our Key Stage 2 children.
Our high quality and wide-ranging break-time and lunchtime equipment help all of the children to remain active learners throughout the school day.
Find out how we utilise our additional government funding on our Sports Premium page.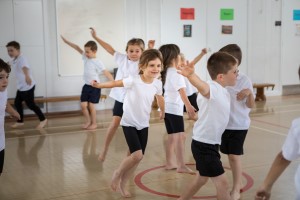 Early Years Foundation Stage
Learning and development opportunities are planned around the needs and interests of each individual child and are assessed and reviewed regularly.
Other Areas of the Curriculum
Over the course of a year our children have the opportunity to develop their learning and skills in all of the wider-curriculum subjects (inc. Art and design, Computing, Design and technology, Geography, History and Music). To ensure that no child has to repeat their learning and has the opportunity to build upon previous learning, we organise our curriculum into 'Topics'. These topics are carefully designed to ensure complete coverage of the National Curriculum on a 2-year cycle ensuring that a child that remains in a class for two years does not repeat content or topic themes. Please take a look at our 'Class Topics' page for more details »
To support the children's learning and to prepare them for the future, each class also has access to a wide range of Information, Communication Technologies (ICT) including a dedicated PC suite, 40+ iPads, interactive and multi-touch screen computers in each classroom and a variety of control and programming applications and hardware to support the teaching of the computing curriculum.
Brampton Abbotts also offers every class the opportunity to develop their musical skills with a dedicated music teacher once a week. As part of this children have had the opportunity to develop their learning of the playing of glockenspiels and ukuleles (in Key Stage 1) and Samba, Tin Whistles and Ukuleles (in Key Stage 2) as well as being able to specialise in a given orchestral instrument as a whole class. This is made possible through the Wider Opportunities scheme offered by Encore - Herefordshire Music Services.